Order Notification
Seller will get mail notification in every order of his product. He would get a no-reply message from the Dokan system instantly after an order.
Order Listing
The order page displays the order detail in the list. This page shows order number, order total amount, earned amount, order status, customer details, order date and order action. you could view order farther details manage order status and delete order from order action.
You can filter the orders by Date. Besides that, you can also export the order list.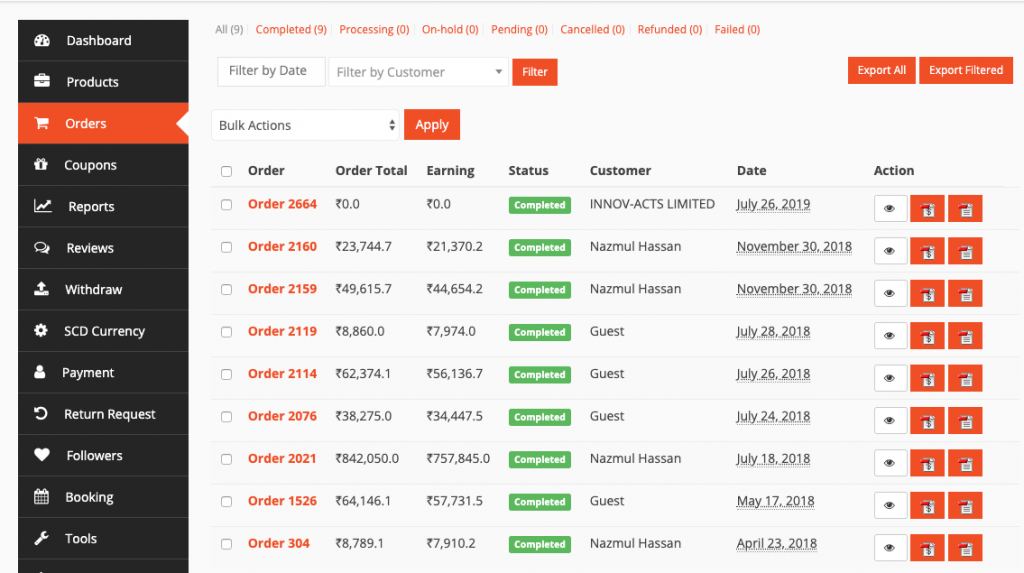 Order Status
You could view and process order status from the order listing and could complete the order from the action.
Shipping your new order
It's now time to ship your new order to the customer. Post the item via your courier according to your Shipping Policy. If you receive a tracking number keep hold of this.
You can track the shipment of the product that you are selling. Navigate to your Seller Dashboard → Orders → Click on the order you want to add shipment tracking. At the bottom of the Order, you will find a button titled 'Tracking Number'.
Inform your customer that the items have been shipped and enter the tracking number you received into the Tracking Number section on the order.
Once you have shipped the order change the Order Status to Completed. If you wish you can wait until your customer has received their order before changing this status.